i live here, i give here
DID YOU KNOW that Texas ranks 2nd nationally for human trafficking and approximately HALF of the known cases include the sexual exploitation of children?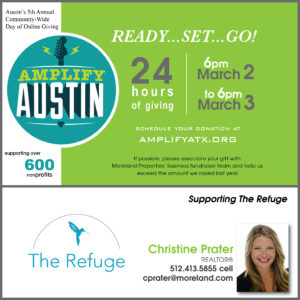 Shocking, isn't it? I know I was floored. I was even was further dismayed to learn that Austin is actually a well-known hub for this type of trafficking.
Wanna be a part of the solution?
You can help create a refuge for these child trafficking victims!
Amplify Austin Day is our city's annual community-wide day of online giving
and it is TODAY (as in right now – do not dilly-dally!)
My personal passion is to help bring spiritual and emotional healing to the children who have been victims of sex trafficking; to provide some hope, a home, and some healing for these survivors. That is why I have partnered with
The Refuge
 – an organization that provides a place of rest and restoration for girls between the ages of 11-17 who are child survivors of sex trafficking. There are only a handful of places in the United States where young girls can get the help they need to recover once they are found and rescued. I am so hopeful and grateful that we have just broken ground on a 50-acre campus just outside of Austin that will be known as The Refuge Ranch, which will provide long-term, holistic care for rescued girls.
*One last note: My Broker, Moreland Properties, is proud to be supporting our amazing city in this way.  If possible, please associate your gift with us by choosing Moreland Properties in the drop down under the "Business Funder" section. You do not have to be an employee to do so (even though it alludes to that!)